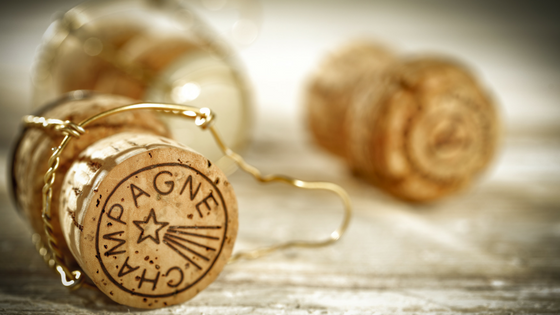 Are you champagne ready for New Year's Eve? Me neither, but don't worry – there is still time!
Here is a last-minute check list to make sure you make the most out of the evening and that your champagne is enjoyed in the best possible way.
Choose champagne for your New Year's Eve
It may sound obvious, but it is really important that the champagne choice is right for the occasion. Are you celebrating alone with your partner? Are you having a small, intimate gathering with just a few good friends. Or are you going all out for a big night with lots of friends and continual cork popping?
Each of these situations requires a different choice of champagne.
Alone with your partner?
Why not take out one of your very best vintage bottles. Then you can reflect on the year that has been and the dreams you have for the next? It's also fun to think back to the year of the vintage and talk about what you did then.
Just having a few champagne loving friends over?
How about asking each friend to bring their favourite bottle. Then you can sip and reflect together – and learn something new about your friends along the way.
Big party?
You need to get down to your local bottle shop STAT and stock up! There are a lot of good specials on for the New Yea's Eve crowd, but there are a couple of things to be aware of. Firstly, just because it says 'Product of France' and it looks like it is a 'champagne' bottle, it doesn't mean it is champagne. France has many other regions that produce sparkling wine. For it to be champagne, it must have the word 'champagne' written in large letters on the label and usually on the bottle neck. Chances are if something is less than $20, and you can easily find 'Product of France' but can't see where is says 'champagne' then it isn't. There are a lot of good champagnes currently available in Australia for between $40 – $50 and are great for larger gatherings.
You can read more about some good champagnes to consider for different occasions on New Year's Eve here.
Make sure your champagne is the right temperature
Getting the champagne to the right temperature is really important. Non-Vintage champagnes should be enjoyed between 8 – 10°c and Vintage champagnes are best enjoyed a little warmer at 10 – 12°c. It is best not to leave your champagnes in the refrigerator all day (or all week) to cool them down. Doing this can dry out the cork and lead to a 'tainted' flavour in the champagne. A bottle only needs about 2 hours in the fridge to cool down.
If you are in a hurry a bucket of iced water (half ice, half water) and a good handful of salt will do the trick in about 20 minutes! Don't believe me? Try it on New Year's Eve! (It's got something to do with the ice lowering the freezing point of water.  I don't want to get all science nerd about it – I just want to help you get your bottles chilled fast!).
Serve your champagne in the right glass
Using the right glass can make all the difference. The effervescence in champagne is a pleasure trigger to the brain. The bubbles rise in the glass, burst at the surface and release the aromas to our nose. If the bubbles aren't treated with respect, our pleasure will be compromised!
Currently, a tall tulip shaped glass is the most preferred shape for enhancing the champagne tasting experience. This shape is wide enough at the bottom to open up the wine and reveal the flavour. It is narrow enough near the top to concentrate the flavours to the nose and tall enough to allow the bubbles to rise. The glass needs to also be a very fine quality, clear glass to allow the drinker to fully appreciate the spiralling ascent of the bubbles and display the mousse. If you are drinking a vintage or aged champagne, you could even use a wider bowled glass. This will allow the flavours to really allow the flavours to open up.
'But what about my coupes and my flutes?', I hear you ask! Since New Year's Eve is all about pleasure and time spent with those we love – go ahead and use them! Especially if you are having a bigger party and drinking Non Vintage. It should be fun! The tulips are best for a 'tasting' experience, but not every party is a 'tasting' party!
Read more about how to drink your champagne here.
Most importantly – ENJOY!
The most important thing is that you enjoy your New Year's Eve who ever you are with and whatever you choose to do.
From my family to yours – Happy New Year and may 2018 be filled with fun, laughter and plentiful bubbles!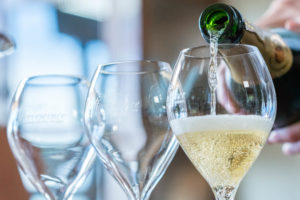 CHEERS!