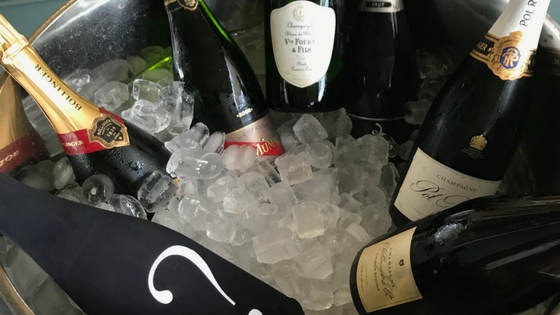 This month, my Champagne Club decided to go looking for suitable Christmas champagnes under $75. We were pleasantly surprised by the selection that was readily available in that range.
But first a little little discussion about our Champagne Club, or the CHIC Circle. The CHIC Circle started when I realised there were quite a few people who I came across in my daily life who said they would love to try more champagnes, but it gets expensive to buy a selection. Not only that, but how do they know they are going to like them? The beauty of starting a club is that if everyone brings a bottle to share, there is automatically a large selection of different ones to try. They can be compared side by side, tasted with different food choices and an open discussion can be had on why certain styles are preferred over others. It's rather like a bigger version of 'When Louis met Jacques' as I discussed in my previous post.
I found it to be a good idea to set a price range so that everyone was investing equally. I also realised that it would be better to be no more than 12 people. More than that and the discussion gets harder to follow. Between 10 ad 12 gives you just the right amount of bottles to share and compare (6 – 7 bottles if each couple brings a bottle, with one for the road).
The other important thing is to set a regular date so that the members can plan for the next one. It is also a good idea to have a theme set well in advance so that there is time for everyone to have time to enjoy investigating what they can bring along. With Christmas just around the corner, this time the task was set to find easily sourced champagnes in the $50 – $75 price range. This price range is a good starting point for a special celebration, and it will still be appreciated by those guest who know only a little about champagne.
So where did the name come from? I happen to live in a suburb called Chapel Hill – so the Chapel Hill Invitational Champagne Circle was born! What circle? I like the idea of a 'Circle of Friends' discussing champagne as we clink glasses in a circle. It seems very inclusive and non-threatening. Also, when you look at a glass of champagne from the top, the bubbles form a ring (or circle) around the outside of the glass. It seemed like nice imagery.
Seven Christmas champagnes under $75
1.Veuve Fourny Blanc de Blancs Brut Premier Cru 
Blend: 100% Chardonnay
Run by fifth generation champagne growers Charles and Emmanuelle Fourny, the Veuve Fourny house is situated in the beautiful village of Vertus in the Cote des Blancs. Known for it's very chalky soils, the chardonnays from this premier cru village have a very distinct minerality which is citrusy and very refreshing. We found it paired wonderfully with oysters.
2. Billecart Salmon Brut Reserve
Blend: 30% Pinot Noir, 30% Chardonnay, 40% Meunier
Billecart Salmon is situated in the historic village of Ay. The house has been independently run by the same family for almost 200 years. The brut reserve has a surprisingly floral nose, despite the high pinot content, and the bubbles where impressively fine. It was very fruity and round on the palate with a rich bouquet suggesting it will age well.
3. Bollinger Special Cuvée
Blend: 60% Pinot Noir, 25% Chardonnay, 15% Meunier
Bollinger is an iconic independently owned champagne house also from the village of Ay. It is well known for it's rich pinot noir oaky characteristics. Oh, and it's also the choice of Bond. James Bond. Special Cuvee has an intriguingly complex balance of aromas, with spicy ripe fruit mixing with pears, brioche and fresh walnut. We found it went well with the smoked salmon and the duck pate.
4. Pol Roger Reserve Brut
Blend: 1/3 Chardonnay, 1/3 Pinot Noir, 1/3 Meunier
Winston Churchill famously said: "My tastes are simple, I am easily satisfied with the best." So how wonderful that we are able to find such a treasure of a champagne for under $75!
With an equal blend of each of the three varietals, nothing is over powering in the Pol Roger Reserve Brut. It is elegant, yet complex, and very satisfying. It went down very well with Gougeres, a French recipe of baked savory choux pastry made of choux dough mixed with cheese.
5. Vilmart Grand Reserve
Blend: 70% Pinot Noir, 30% Chardonnay
This was our only grower champagne of the day. Vilmart is from the Montagnes de Reims – well known for the quality of their pinots. The beauty of the grower champagnes is that they are a real expression of terroir. It is very intense on the nose – thanks to the pinot burst. Initially we were hit with a bouquet of red fruits, particularly cherries. After a few seconds, however it became more complex. We were able to distinguish things like oak, white pepper, and butter on toast. It was as beautiful rich balance of flavours.
6. Mumm Vintage 2008
Blend: 70% pinot noir, 30% chardonnay
G.H. Mumm has been around for almost 200 years. In 1876, Georges Hermann Mumm decided to decorate the neck of every bottle of his non-vintage cuvee with a red silk ribbon. This signified the sashes bestowed on individuals who received the highest of French honours. This set Mumm apart as a champagne of distinction and the Cordon Rouge legend was born. It was very exciting to learn that we could buy a Vintage champagne from such a big house for under $75! Although still quote young, the developing flavours of the 2008 vintage left a lovely honey vanilla toastiness on our palates. The very satisfying length in the mouth along with the super fine bubbles showed us that this was a very classy champagne.
7. Mystery Wine – Louis Roederer Brut Premier
Blend: 40% pinot noir, 40% chardonnay, 20% meunier
After all that tasting and comparing, I decided to through a mystery bottle in the mix. Nothing like a blind tasting to get your brain working as much as your palate! I chose Louis Roederer Brut Premier because it had one point of difference with all the other champagnes we had tasted. Louis Roederer only goes through very partial malolactic fermentation, giving it a much crisper, fresher palate than the others. When tasting blind, it's rather like biting into a crisp almost not quite ripe green apple. This gives the champagne a lot of character and also helps with it's ageing potential, according to proponents of this practice. It is a classic champagne for any occasion and we all found it to be a great palate cleanser.
Time for you to try our selection of Christmas Champagnes!
Now that we have done all the hard work for you,  it is time to go out and stock up on some of these great champagnes for Christmas. Let me know if there is any thing else you would like us to test out for you to try to help with your decisions in your champagne purchases. Next month we are attempting to find vintage champagnes under $120, but I am open to suggestions!