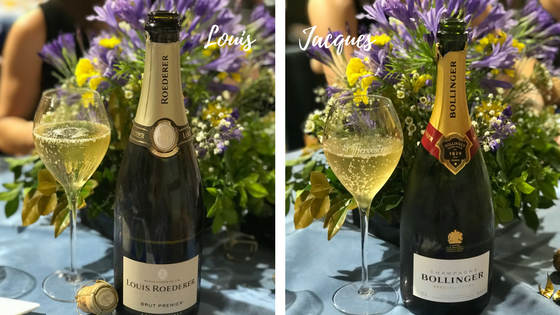 Let me tell you a little story about the night Louis met Jacques. That's Louis Roederer and Jacques Bollinger, just to be clear. Louis Roederer (1809 – 1870) and Jacques (Jacob) Bollinger (1803 – 1884) were actually contemporaries, but this is not a story about them meeting for a sneaky drink on a Friday night to compare champagne making notes. It is, in fact a story that starts with two tired mothers meeting for a sneaky Friday drink about 200 years later to debrief on the week that was.
Due to a series of unfortunate events that led to the closure of the car parking facility where their sons attended Friday afternoon Jujitsu classes, these two mothers discovered that the closest parking after dropping their sons off was the local pub. They soon realised that it would be much more sensible to carpool so that only one parking space was required, and why not stop for a refreshment while waiting for the boys to finish class?
And so the weekly debrief was started. One mum had a beer, the other had a Savvy B, over which the problems of the week were picked apart and solved. Mostly.
Now, at one stage, this particular pub started the very civilised promotion of "Champagne Friday", whereby patrons could by a glass or even a bottle of Moet et Chandon for a very reasonable price. Sometimes, for one mum, the Savvy B was substituted with champagne. But, the other mum was not that taken by champagne and was content with her beer.
However, the other mum was quite persistent, and eventually wore her down with her stories about champagne and how magical it is.
You've probably guessed by now that the persistent mum was me. The journey of discovery that I have taken my friend Margaux* on over the last few years is one of the most satisfying of my life.
Margaux had not really had that much experience tasting champagne. But I did get her to try the Moet et Chandon and explained a little to her about the house and the region. I explained about how champagne only comes from France and a few other basic things. We were, after all, solving the the problems of the week during this precious hour we had, so there was not a lot of time to waffle on about champagne.
Margaux did tell me that she quite liked Veuve Clicquot, though. Her boss is a bit of a champagne connoisseur and sometimes bought her a bottle of the vintage for Christmas or for her birthday, or just because she'd done a good job and deserved a reward. It turns out that she had one such bottle sitting in her fridge that she invited me around to enjoy. So then I took the opportunity to explain why the vintage Veuve Clicquot tasted so different to the Non-Vintage Moet et Chandon Imperial. I pushed it a little bit further and told her that if she drink it in some 'proper' tasting glasses she would taste the different flavours even more. So we had to try that theory out together, and she saw the light!
Soon the Sneaky Friday beer and Savvy B pretty much gave way to Sneaky Friday Bubbles, budget permitting. The pub being next to the liquor store, if we had 5 minutes to spare before going to collect the boys we would go and check out the weekly champagne specials. Sometimes Margaux would buy something new to try – by new, I mean not Moet or Veuve Clicquot. She soon noticed that more and more champagnes were becoming affordable, and there was much more choice. I tried to advise on the best value and gave her a bit of background of the different ones.
Purchasing a bottle of champagne was a rare and special occurrence. There was usually a particular occasion coming up, so we would talk about what would be the most appropriate. I loved the thought that went into it.
Three or four years later, we both had reason to celebrate this week. Our sons were graduating from primary school. Both were our youngest children, so this marked the end of an era for us. The graduation dinner was a BYO affair, so imagine my delight when Margaux texted me and asked if we should bring some bubbles along. "I've got a bottle of Bollinger," she said! BOLLINGER! I would have to up my game! I don't think I had even considered what I might take along to share, but I don't think Bollinger ever came into the equation! I told Margaux if that was the case then we better BYO 'real' glasses as well so we could enjoy it properly… then went about thinking what I could take along that would be new and exciting for her.
Enter Louis Roederer. Cellar left, with a spring in his step.
I have just hosted my final Ladies Luncheon for the year, and the champagne that was showcased was Louis Roederer. I had bought myself a couple of bottles to enjoy over Christmas and they were lying in wait.
The interesting thing here is that you probably couldn't get two more diametrically opposed non-vintage champagnes. Bollinger Special Cuvée is all robust Pinot Noir dominant flavours from Ay. It is largely vinified in oak and is made up of about 50% reserve wines giving it a very distinct rich flavour. Louis Roederer Brut Premier, while still a blend of the 3 grapes and matured in oak, has a much higher percentage of chardonnay from the Cote des Blancs. Added to that, it only goes through partial malolactic fermentation, so, although rich and powerful, it has a freshness and crispy elegance that is very different to Bollinger.
So on this very momentous of nights, in the leafy suburban western suburbs of Brisbane 200 years after they possibly met in person, Louis met Jacques; and Margaux's champagne education reached another level. I think she switched off when I started talking about oxidative styles versus reductive ones – no matter, there's time enough for that. Anyway, it was time to watch our angels get their graduation certificates and sing their goodbye songs.
Margaux's champagne journey is apparently not going to end there…. she asked me if I knew where she may be able to get some Charles Heidsieck because she'd had some with her boss and loved it. She thinks it will be perfect for Christmas with her family.
It looks like Louis and Jacques will soon be meeting Charlie!
*name may or may not have been changed to protect her identity