Blanc de Noirhahahahaha!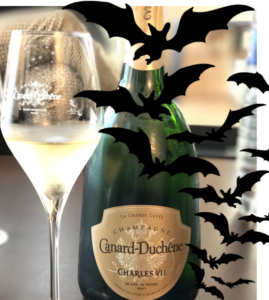 We have the Celts to thank for the Halloween tradition. 2000 years ago, they believed that at the end of summer a kind of portal opened up between the spirit world and the earthly world which meant that all kinds of ghosts and ghouls were roaming the earth. So they threw big parties to scare them away. This was called Samhain.
Later on, Christians called it All Hallows Eve, the day before All Saints Day.
In modern times, many countries have their own variations. The Irish migrating to America are widely considered to have started the Halloween tradition there. In South America they celebrate the Day of the Dead (Dia de los Meurtos), and in France All Saints Day (La Toussaint) is a public holiday when people traditionally visit the graves of relatives to remember the dead.
So with all these spirits potentially hanging around this evening, what better Champagne should we be drinking than Blanc de Noir!
Blanc de Noir is made entirely from the white juice coming from one or both of the two black grape varietals most widely used in Champagne – Pinot Noir and Meunier.
Pinot Noir adds body and structure to the final blend – something that ghosts and ghouls could use!
Meunier adds fruitiness, which the bats are sure to like!
Traditionally the All Saints Festivals lasted for three days. So to help you through, here are:
Three Blanc de Noir Champagnes to try for Halloween
Canard-Duchene Charles VII Blanc de Noir
"Charles VII presents the castle of beauty to his favourite mistress, Agnes Sorel, declaring that she is now his lady of beauty in more ways than one." 
This is a very intense champagne that beautifully expresses the grapes of the Montagne de Reims. The complexity of the stewed fruits with a hint of spiciness makes it a perfect accompaniment to a meal, particularly of rich game or duck. Frankenstein would approve.
Boizel Blanc de Noir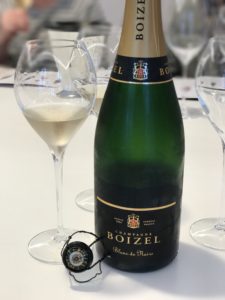 This champagne is made exclusively from the best of the best Pinot Noir grapes from the Grand Cru villages of champagne region. It is rich and expressive, but with a surprising freshness. Perfect for veal or chicken dishes.  Perfectly suited to Casper the friendly ghost!
De Venoge Blanc De Noir Reserve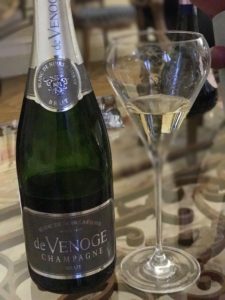 This very stylish blend of Pinot Noir and Meunier is muscular and crisp. It has a hint of vanilla towards the end and could even go well with dessert. Edward Cullen comes to mind.
So whether you traditionally celebrate Halloween in your family, or just want to try something different on a Tuesday night – perhaps tonight is a good time to go out of your comfort zone, just in case there are some spirits that need chasing away! Champagne is all about tradition after all.
CHEERS!