I have just come back from a whirlwind one week trip to Champagne. And while I was there, I actually tasted the stars!
In fact, I tasted a whole lot of things during the course of the week. I was lucky enough to attend 'Champagne Week' or 'Printemps de Champagne'. It is a yearly series of events held for Champagne and Wine Specialists to essentially taste the still wines from the previous harvest. There are literally hundreds of champagnes and still wines to taste over the course of the week, and a spittoon becomes an unlikely best friend. I will talk more about Champagne Week in my next post, and leave this post to talk about how I came to actually taste the stars!
I have written before about how I named my blog 'Tasting the Stars' after the quote attributed to the Benedictine Monk, Dom Perignon, who is rightly or wrongly credited with 'discovering' champagne. 'Come quickly, I'm tasting the stars!' he is said to have cried out to his fellow monks on discovering the bubbles in his wine. I understood how he felt when I first tasted champagne as an 18 year old.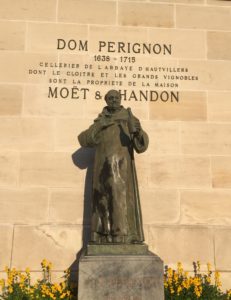 So there was a certain poetic grace when I found myself standing outside the entrance of the rather grand headquarters of Moet et Chandon on the Avenue de Champagne in Epernay, in front of a statue of the man himself. Fate would have it that I was invited to a private vertical tasting of Moet et Chandon vintages with the cellar master, Benoit Gouez. As I write that, I still can't believe that scenario involved me. A vertical tasting, if you have not heard the expression before, means a tasting of different vintage years starting from the most recent and going backwards in years. This experience had nothing to do with Champagne Week, but everything to do with an opportunity arising from taking myself out of my comfort zone and going solo to Champagne for a week.
There were six of us fortunate souls in this little group. We were shown through the cellars of Moet et Chandon that extend for kilometres under the streets of Epernay, and met by Benoit at precisely 5pm in front of a large iron gate. In his hand he was holding the largest iron key I have ever seen. It reminded me of the scene in The Sound of Music when the nuns are hiding the Von Trapp family in the Abbey and Mother Superior is slowly fumbling with her ancient key to let the soldiers in.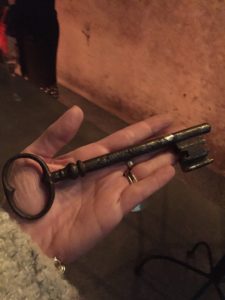 This particular gate was at the entrance to the Moet et Chandon 'Oenotheque' or Wine Library. It is a series of rooms in the cellar that house the oldest and rarest vintages. A living catalogue of over a hundred years of work. The oldest bottles I saw were from 1898.
We were then led to a room with a long concrete table with candelabras at each end and the years of all of Moet et Chandon's vintages projected up onto the walls. It was almost a religious experience. I had goosebumps on my goosebumps. I was shivering not from the cold in the cellar, but from the enormity of the situation I found myself in! Apparently very few people get to see this room. As a Moet et Chandon Ambassador, Roger Federer has been there, for example. In fact I  probably used the same spittoon as him!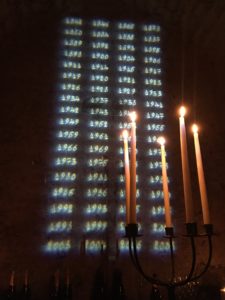 We weren't kept waiting for long and were immediately served a glass of Moet Imperial NV to 'wash down the dust', as Benoit explained the blend and challenges of creating 20 million bottles of champagne a year that consistently taste the same, wherever in the world it is purchased and consumed. Did you know that Benoit and his team must each taste 800 individual cuvées of still wine before selecting a pre-blending group of about 60 still wines, which are then blended in various different quantities in order to achieve the desired outcome? There is an alchemist at work behind every non-vintage champagne. Especially one like Moet et Chandon Imperial which is the most consumed champagne on the planet. I was looking reverently at the glass before me and we hadn't even started on the vintages yet!
Our vertical tasting then started. We were lucky enough to experience some of the vintages 'dégorgé a la volé' or hand disgorged by the specialist cellar worker who was with Benoit. The interesting thing about this was that the champagnes are tasted as they are in the bottle with no extra added dosage that is usually part of the production line. So it could be said that these champagnes are tasted in their pure state.
This is the list (Vintages after 2008 were all tasted blind):
Moet Imperial NV
light and fresh with notes of  vanilla, baked apple and lemon meringue pie
Grand Vintage 2008
the latest released vintage
very creamy on the palate, still very fresh, but with a beautiful toasty fruitiness.
Grand Vintage 2003 – dégorgé a la volé
considered by some to be a bad vintage year because of the terrible drought
this was surprisingly satisfying and still seemed quite fresh, with a fruity complexity and depth of flavour that made it seem much older than it was.
Grand Vintage Collection 1998
Very rich and elegant with almost a hint of truffle. The age was evident, with coffee, apples and honey coming immediately to mind.
Vintage 1996 – dégorgé a la volé
Regarded by some experts as the vintage of the century.
Still very elegant with notes of toasty tropical fruit. It seemed younger that it actually is.
Grand Vintage Collection 1995
not considered to be a great vintage for the region, but this was surprisingly complex and satisfying. It had toasty notes, but was sweet and creamy in the mouth. As the glass warmed up, new layers of aromas opened up.
Grand Vintage Collection 1993 – dégorgé a la volé
This was my wedding year and was added to the list for my benefit! I was very excited to taste it.
The first impression was of baking gingerbread! There was a wonderful fresh baked appeal – spices vanilla, honey. Sensational!
Grand Vintage Collection 1988 – disgorged in 2003
Another superb vintage year in the region.
Again, quite toasty on the nose with wonderful confit fig and nut overtones. I could have gone on sniffing it for ages!
MCIII
a new concept – bare with me for the explanation!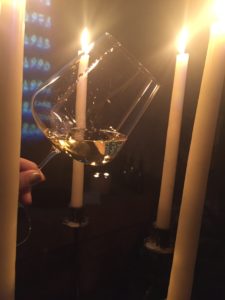 MCIII is an innovative interpretation of a multi-vintage champagne. It is made from three different blends, vinified in three different ways.
The base wine is 2003 and has been vinified in stainless steel vats. 2003 was chosen for it's fruitiness.
Next there is a blend that has been aged in oak – 2002 for richness, 2000 for freshness, 1998  for elegance
Lastly there is a blend that has been aged in bottles –  1999 for richness, 1998 for elegance, 1993 freshness; disgorged in 2004
The result was a perfect balance of harmony and complexity unlike anything I have ever experienced before!
It is at this point when I actually tasted the stars. My work here is done!