International Women's Day is the perfect day for highlighting women's achievements in Champagne!
I have often written about the great, strong female innovators who have shaped the champagne industry in the past. People such as Barbe-Nicole Clicquot-Ponsardin (Veuve Clicquot), Madame Louise Pommery and Madame Lili Bollinger to name a few. These were all women who stepped into a role of running a champagne house after the death of their husbands and who not only kept the business going, but improved and grew their businesses.
This year the theme for International Women's Day is #BeBoldForChange.  To honour that, I hosted a champagne luncheon highlighting one of the few bigger name champagnes that is actually made by a women Duval-Leroy, and invited along a very inspirational local author, Rebecca Sparrow, as a guest speaker. I have been now hosting Ladies Wine Luncheons for about 4 years, and this is the second one where I have been lucky enough to be able to showcase a particular champagne house and wine maker – both of them women. In November, we were lucky enough to have Floriane Eznack out in Australia from Jacquart. I am really pleased that I have been able to start this year off the same way last year ended. I have a very loyal following of lunch goers, who adore their champagne. I am very grateful for these ladies and and the support they show me.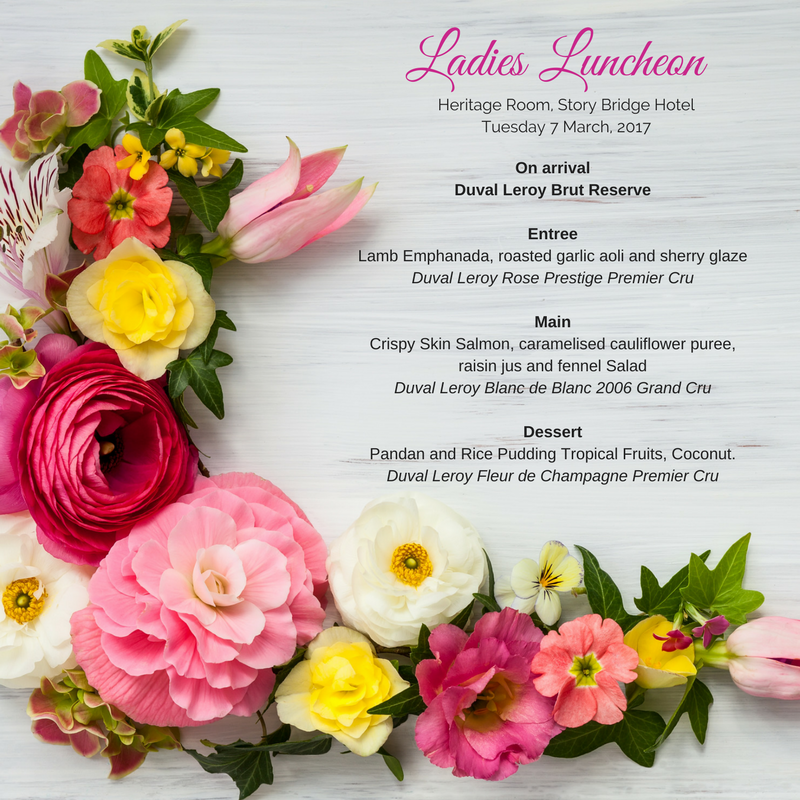 How fitting, then that we were able to come together to celebrate women's achievements while enjoying four delightful cuveés from Carol Duval-Leroy. Carol is a 5th generation of wine maker in her family. She took over the running of the house in 1991 in very sad circumstances and now has three grown up sons helping her in the business. Carol is the first and only woman to date to be appointed president of the Association Viticole Champenoise – an achievement in itself. She has overcome adversity to earn respect in a male dominated world and continues to innovate as her business grows.
Duval-Leroy has a history of innovation. Back in 1911 at around about the time the 'Echelles des Crus' (the grading system of the vineyards) was introduced, Raymond Duval-Leroy decided to make a cuvée uniquely of Chardonnay and Pinot Noir grape varieties selected only from villages classified as Grand Cru and Premier Cru in the Grande Vallée de la Marne, Montagne de Reims and Côte des Blancs regions. He was the first in the region to make such a cuvée, and called his creation 'Fleur de Champagne', because the aromas he distinguished during blending reminded him of the white champagne flowers in June. The house still produces the blend over 100 years later.
Carol for her part has also been part of many innovations:
The first champagne house to produce a certified organic Brut champagne, still made today. (*Wine made from grapes grown organically and Ecocert FR-BIO-01 certified)
First house to employ "oenoclimates" and processes to highlight the attributes of the terroir.
The first company using sustainable viticulture to be HVE (high environmental value) certified.
The first vat room in the world to combine photovoltaic solar panels, a rainwater harvesting system and a green wall for heat and sound insulation.
The first house to produce bespoke champagnes with chefs and sommeliers.
The interesting thing about these achievements is that the majority of them are centred around sustainability and the environment. This indicates that they are dedicated not only to respecting the terroir, but looking into the future so that the next generation will continue to enjoy the beautiful drink.
All of the champagnes we tasted had a lightness and purity that expressed the quality of the premier cru and grand cru grapes from which they were made. There was an elegance about them characteristic of the chardonnays from the Côte de Blancs where their main vines are situated. Quintessential wines for one of Champagne's quintessential women!
Our guest speaker, Rebecca Sparrow, is also a women who has overcome adversity to find herself at the top of her writing game. Rebecca had the guests in stitches as she told us the story of her life (an abridged version). She spoke of how she went from being the editor of a fancy travel magazine where she traveled all over the world first class to ending up in her childhood bedroom staying with her parents with no job, no home and an ex-husband half a world away that no one even knew she married! But she inspired us by telling us how she turned it all around and wrote a best selling novel that she eventually sold the screen rights to, twice, despite her 'friends' telling her she would never make it as a novelist. But it took just one person to believe in her and to encourage her and to mentor her into fulfilling her dream.  She has now written several books and is passionate about helping teenage girls work their way threw the minefield of being a teenager. Her latest initiative 'Before you Hit Send' is a talk she is presenting to high schools in Brisbane to educate girls on correct social media etiquette and trying to help them not make mistakes that could have life long consequences.
I'm feeling very inspired today!
International Women's Day is also my husband's birthday – he loves to say that he was born on that day as 'God's gift to Women'! He's celebrating a very significant year of being alive this year, so there will be champagne corks popped in our house tonight  to celebrate, and reflect, and also to thank the universe that we live in such an extraordinary time of change.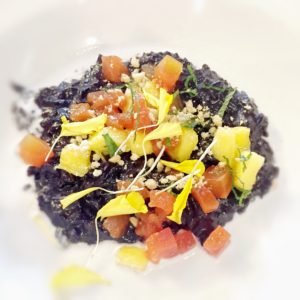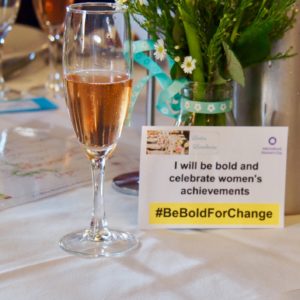 If you live in Brisbane and would like to attend one of my lunches please sign up to my mailing list.